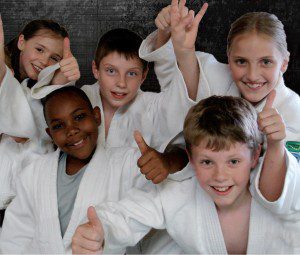 Family Jiu-Jitsu. Being a in a family of four it is not always easy to find activities that are fun for the entire family. My oldest child is 8 and my youngest is 6. They are both active, but going for a bike ride, jog or hike with a 6 year old is not really the best work out for two fit adults.
Our 8 year old son can keep up for the most part with some activities, but our 6 year old daughter after hiking two miles is done.
Why Family Jiu-Jitsu?
I have been running a martial arts academy since 1994 and both kids have been involved since they were 4 years old. All of us can have fun with Jiu-Jitsu.
There are games for the children that build a good foundation for developing skills that will be used with their practice. And also give them the strength and coordination to excel in other activities.
For my wife she loves to train as well. We will take the kids up to the mat room and play train/play for a couple of hours and everyone is having fun.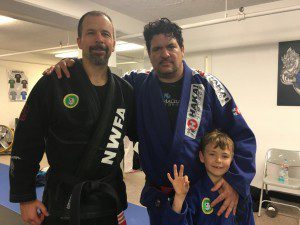 At first my wife was not interested in getting down on the mat and rolling around. It can be a bit intimidating but, after about 2-3 months she was hooked and now she wants to train whenever we get the chance.
One of the great things about this practice is that there are so many benefits that we get from the training:
1- Family bonding
2- Increased fitness (cardio, strength and flexibility)
3- Mental empowerment
4- Spending time in a positive community and good environment for our children
5- Life lessons that can be used in our day to day activities
6- The character development skills our kids have learned are awesome
7- Learning how to set, track and follow through with goals
The cool thing about Jiu-Jitsu is that the more it is practiced, the more fun it becomes. It is not one of those activities that you do for 6 months and get burned out, like when running on the tread mill.
Jiu-jitsu training builds enthusiasm, intrigue and skill the longer you practice. You are never the Master and there is always room to improve no matter who you are or what your skill level is.
How many things in life do we have that offer this many benefits and allow us to train well in to our later years? Grand Master Helio Gracie was on the mat training in his 90's. Guru Dan Inosanto received his Black belt in Bjj when he was 68 years old.
This practice truly is a gift that never stops giving. If you are in the Portland, OR area and are looking for a fun activity to do with your family Jiu-Jitsu may be the right choice for you. Come in to Northwest Fighting arts and try out a free private lesson for the family.