Teach Your Child Discipline, Focus, Confidence, and Strength
Kids love the excitement and fun that stem from our Portland kids' Martial Arts classes. At Northwest Fighting Arts, youth learn important self-defense skills, physical fitness habits, and confidence. Our kids' Martial Arts program also focuses on the development of the mind, including self-control, focus, and discipline. Our young Martial Artists develop a higher level of personal awareness and self-confidence that will serve him or her well in dealing with the pressures of life. At NWFA, it is our goal to help all of our students become more focused, confident, and disciplined.

NWFA's Youth Power Mission Statement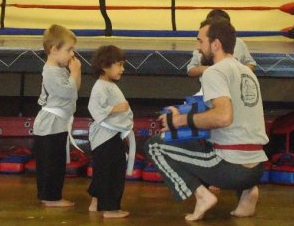 We strive to provide Martial Arts training for kids that encourage personal growth and development within each of our students, emphasizing both physical and mental conditioning. Our supportive and varied curriculum inspires students to see beyond their current potential and to reach new levels of personal success. Students in our kids' Martial Arts program benefit from their training by learning the skills of setting goals and working to achieve them. This builds character, improves confidence, and boosts self-esteem. We instill in our students the traditional Martial Arts values of respect, self-discipline, honor, integrity, family, and courage, all while promoting leadership skills and social accountability.
We believe that the Martial Artist is meant to be an active and positive influence within their community, and we encourage our youths to proudly accept that role. Our Portland kids' Martial Arts courses are more than a sport or after-school activity — they're a lifestyle. It's our mission to be both a guide and a catalyst for each of our students, nurturing their success to improve the individual, the school, the Martial Art, and the community.
What to Expect from NWFA's Program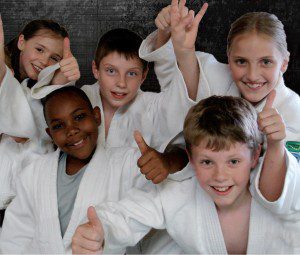 Character Building – We'll help positively influence the child's core character by teaching character development, goal setting, how to encourage others, accountability, and the importance of a positive attitude. Students will learn how to listen and lead in a respectable and respectful way.
Anti-Bullying – With so many schools affected by bullying, we want to help educate your children on the subject. We take an alternative perspective by showing children how to communicate with bullies in a non-violent way, while informing them on the negative effects of being a bully. We work together to understand the consequences of bullying and how to stand up against a bully without violence.
Health & Fitness – Our kids' Martial Arts programs offer a unique fitness challenge to children. We teach them core strength, flexibility, and balance, aspects that provide long-lasting health benefits and instills healthy habits from a young age.
Benefits of NWFA's Kids Martial Arts Program
Better ability to think, concentrate, and pay attention
Improved grades in schools
Diffuse contentious situations with self-control
Improve self-esteem
Boost confidence
Instill a sense of respect for other
Learn the importance of hard work and responsibility
FAQs About Kids Martial Arts Classes in Portland
Q: What do kids learn in a mixed martial arts class?
A: NWFA teaches Muay Thai, Jeet Kune Do, and Jiu Jitsu. We teach with a focus on developing a deep understanding of each of these techniques. By the time they've become a black belt, our members have developed personal safety skills and habits of activity and discipline that can keep them healthy for the rest of their lives.
Q: What opportunities for character building are there in kid's martial arts classes?
A: We teach our students how to become more courteous, respectful, diligent, patient, honest, and eager to work as part of a team. We believe that these interpersonal skills are vital to success, not just in the Martial Arts, but in all areas of life.
We incorporate character lessons into our training by engaging in a discussion of real-life scenarios and how to handle them accordingly.
Q: Will martial arts training encourage my child to be more aggressive?
A: It is a common misconception that children tend to become more aggressive or violent after learning karate or another MMA. On the contrary, conflict resolution training is an important part of any Martial Arts class for kids. Children are taught to practice patience and courtesy as well as the ethical responsibilities while in a conflict situation. Peaceful conflict resolution for kids is always the first option and the skills learned in our classes are only to be used for self-defense.
Q: How old are the kids who train in your martial arts classes?
We welcome kids between the ages of 4-13 in our youth program. Every class has multiple instructors and we group the students based on age and skill level. Young adults aged 14+ are welcome in our general martial arts program.
Q: How do I get started?

Speak to our expert instructors to have all of your questions answered. Call us today at 503-235-3435 to get your child's Martial Arts journey started.