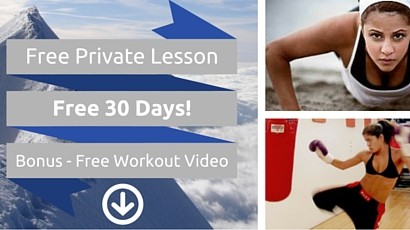 Get Fit, Get Confident!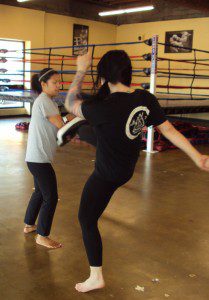 Searching for Portland kickboxing classes for women? Learn the most effective and exciting form of fitness and self-defense at Northwest Fighting Arts Academy. Burn inches off your waist while learning how to stop an attacker in his tracks. In the words of one of our members, "It will be the most fun you've had while getting your butt kicked into shape!"
Benefits of Training in Women's Kickboxing
Our women's kickboxing classes in Portland, Oregon, focus on developing a high level of fitness while training in useful, real-world, and straight-forward defense techniques. Not only do these classes produce awesome results, they're challenging and fun.
We create unique routines that help you burn anywhere from 700-1100 calories per hour. It's a practical way to work out, and you'll not only tone your body, you'll learn proven techniques to protect yourself.
Women's Kickboxing FAQs:
Q: What will I be doing in these classes?
A: In these circuit boot camp classes, you'll throw hundreds of punches, kicks, elbows, and knees. You'll strike mitts and heavy bags, which are not only more intense than just punching the air, but you'll learn how to use these strikes in real-life situations. Throw in dozens of different cross-training exercises with medicine balls and kettlebells and you'll see how this whole-body workout will leave you toned from head to toe!
Q: "Sounds fun, but what if I don't want to get hit?"
A: No worries. The boot camp-style women's kickboxing classes are focused on technique and conditioning. While you'll be learning effective strikes and defensive moves, all the training is done with kickboxing gloves, focus mitts, and kick shields. No one is hit during these training sessions, as safety is our utmost priority. If you do feel like testing out your self-defense skills in a safe environment, however, there are separate sparring times where you can work more competitively.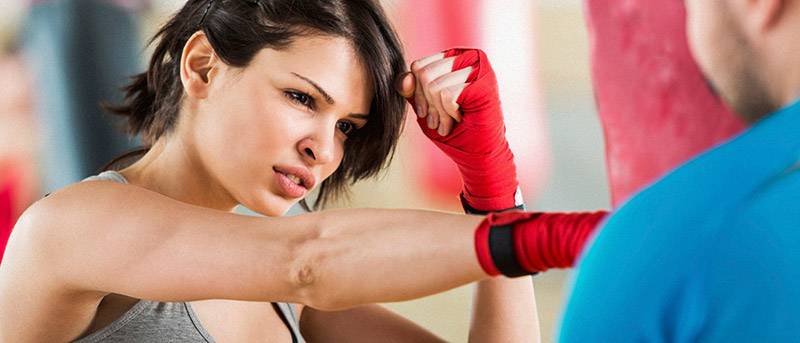 Q: What else will the Portland women's kickboxing classes do for me?
A: The complete spectrum of benefits from our kickboxing classes is too long to list. However, here are a few benefits that you can expect:
Workout your entire body in just one hour.
Tone your legs, arms, glutes, and abs. Utilize your entire body while keeping your heart rate up (it beats any simple cardio routine)
Develop the skill and confidence you need to effectively deal with an attacker. These classes will give you fight-ending knockout power in your fists, elbows, knees, and kicks.
Learn exercises you can do on your own.
Train at your own pace. We'll push you and help you conquer your limits, but kickboxing can be done by anyone, regardless of where their current fitness level stands. You'll be sweating and smiling from a job well done at the end of each one of these boot camp-style women's kickboxing classes in Portland, Oregon.

To get started on your women's kickboxing trianing, call us today at 503-235-3435.