October 14th, 2011
Professor Jeff asked if I would be up for contributing to a blog for Portland boxing at NWFA.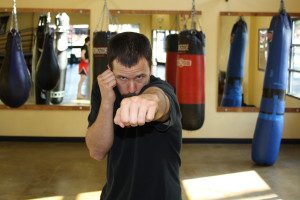 What a great idea: to share tips and insights on training- but from a student's perspective- so that other students and prospective students can benefit.

I will be doing this a couple times a month on various topics, mostly on the boxing arts of one kind or another (Western, Filipino, or Thai).

If you come in on Friday open gym you will probably see me experimenting with some of things I describe at the end of this article. During the week I come in for the boxing classes for cardio; and Kali-Eskrima-JKD for weapons, the mental challenge and self defense. Although I've been a regular at Portland NWFA for about 5 years, I still consider myself a novice as I am always learning something new..


Thursday night was my first AFT class (Applied Fight Training) and some of the material from the class will be form the basis for my first Portland boxing article. There were about a dozen of us there. We focused on a western boxing 6 count combination drill. To some of us this was new, to others it wasn't-I was amongst the new camp.

A 6 count combination drill sounds deceptively simple. It is a combination of evasions (slips and bobbing and weaving) followed by an immediate counter with six punches (jab, cross, hook, upper cuts). We drilled two counter attacks, triggered by one of two combinations delivered by the attacker (training partner), done from a Western boxing or punching stance.
The Portland Boxing Combinations
A. COMBINATION
ATTACKER: (High) RIGHT CROSS & (High) LEFT HOOK
The first counter is triggered off of a right straight cross (to the head) and left hook (also to the head). The 6 count follows the evasion and looks like this:
COUNTER:
-SLIP LEFT (evading right straight cross)
-BOB & WEAVE TO RIGHT (evading left hook)
1. RIGHT STRAIGHT CROSS
2. LEFT HOOK
3. RIGHT STRAIGHT CROSS
4. LEFT UPPERCUT
5. RIGHT UPPERCUT
6. LEFT HOOK
B. COMBINATION
ATTACKER: (High) LEFT JAB & (High) RIGHT CROSS
The second counter is triggered off a left jab and right cross combination.
COUNTER:
-SLIP RIGHT (evading left jab)
-SLIP LEFT (evading right cross)
1. LEFT HOOK
2. RIGHT STRAIGHT CROSS
3. LEFT HOOK
4. RIGHT 45 DEGREE UPPERCUT
5. LEFT 45 DEGREE UPPERCUT
6. RIGHT 45 DEGREE DOWNWARD CROSS
In the meantime, the attacker should be applying forward shield blocks (head down, elbow tucked) with the left hand and side shield blocks (head down, elbow tucked to side) to defend against the counters.
One of the beauties of the drill is that it's simplicity allows you to dig deeper into the nuance.
ADDITIONAL NOTES: NUANCES AND TRAINING INSIGHTS
WEIGHT SHIFTING AND MODULATING POWER:
One of Professor Jeff's observations was that many of us were delivering our punches from the waist and not from the ground. In other words, we weren't getting full power from our punches. The power comes from shifting our weight forward (with the extension of the punch) and then backwards (as we retracted the punch). Its a series of quick weight shifts from front to back with each punch. This sounds simple conceptually, but was difficult for me in practice. Another nuance is in the application of this weight shift and power delivery. The first several punches may be "throwaways", to distract the opponent, with the power delivery saved for the tail end of the combination (for example, the second hook and or the undercuts).
RHYTHM AND TIMING:
There's a timing and rhythm component to this whole thing too. If the first three punches are delivered as half beats, then the last three punches (upper cut, uppercut, hook or uppercut, uppercut, downward uppercut) are delivered in rapid succession (for example, 1/8ths or eighth beats).
TRY THESE TRAINING EXPERIMENTS:
I've trained long enough to know that whenever I am exposed to a new technique that feels awkward or unnatural that it's ok. It's normal. Just like riding a bike, playing a musical instrument, or driving a car, it's all about "programming" the new material into muscle (or nervous) memory so that it doesn't take so much effort. Different people have different ways that work best for them, but for me it's always been a matter of isolating that aspect of a particular technique that I am having trouble with and breaking it down into something very simple and fundamental and then doing repetitions…lots of them.
That's why if you see me working out during any of the open boxing times at Portland NWFA, you'll probably see me in front of a heavy bag, mirror, or marching up and down the floor doing the same thing, over and over.
To get better and test if you are getting better, there's no substitute for a training partner. But when there isn't one around, I try to find an alternative that helps me train on my own.
PROGRAMMING DRILL FOR SLIPPING A PUNCH:
I've adapted a drill that normally requires a partner from a Dumag (Filipino wrestling) exercise that Professor Jeff showed us a while back. In this drill we would square off face to face with our partners, then each of us would lean forward and to the right, and bump each other's shoulders. We would then repeat this on our left side. He would have us bump alternating shoulders with each other to help us with maneuvering, get used to the impact, and make sure we had a strong base (that is, we were well grounded). I think you see where I am going. I've been doing this as a solo exercise against a heavy bag. I will typically do one hundred reps to one side of the bag (for example, the left), then repeat but on the right side. By facing the mirror, I see that my head disappears behind the bag (when I am in the neutral position) and then peek out to the left (or right) of the bag when I have bumped my right (or left) shoulder into the bag. If I feel ambitious, I will go from bumping my right shoulder (slipping left) to moving completely to the other side and bumping my left shoulder (slipping right). It's a simple drill that has helped slipping take less effort for me and maybe it will do the same for you.
PROGRAMMING DRILL FOR SHIFTING WEIGHT DURING PUNCHING:
During the class, I found it awkward to QUICKLY transfer my weight from front to back while executing a punch. While tinkering after class, I found that the easiest and quickest way to do shift weight is to simply LIFT and DROP my rear heel. This would have the effect of shifting my weight forward (when my rear heel was lifted) and shifting my weight back to neutral (when my rear heel was planted). I haven't drilled this one much yet, but want to try it more in front of the mirror and with punching against a heavy bag.
I'll let you know next week how it goes. In the mean time, if any of this works for you or if you have discovered other things that have helped your training, drop us a line.
Read about how to train for fitness in our Portland Boxing Classes…