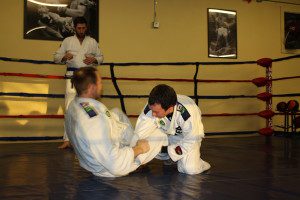 Why Brazilian Jiu jitsu? If someone told you that you could lose weight, feel fitter and be able to accomplish these things without having to spend countless hours running like a hamster on a treadmill, would you think they were lying to you or would you want to learn more?
This is Why Brazilian Jiu Jitsu is the right choice.
Training Brazilian Jiu Jitsu will let you work on your cardiovascular endurance and adds strength to your body as well, in addition, Brazilian Jiu Jitsu training also targets your core, meaning it hits those generally hard to target areas of the body while at the same time giving you a stronger overall balance and constitution.
One of the best things about training Brazilian Jiu Jitsu is that you can do it at your own pace, if you feel you just want to train for the sake of working out, a few classes are going to suffice and bring you closer to your goal. However, some are bitten by the BJJ bug and realize that they want more, they want to increase their ranking and standing and want to learn more about the art itself, the moves, and the history. Ultimately, Jiu Jitsu gives back what you put into it, if you shown an increased interest and decide you have a talent for it, you can continue to grow.
If you want proven results when it comes to losing weight, simply want to become more active or want a social activity that also pushes yourself, Brazilian Jiu Jitsu may be the perfect avenue for you to do so.
If you live in Portland, Oregon, you have a choice of where you would like to train your Brazilian Jiu Jitsu. But whether you are a beginner or are more advanced, one of the most important things about where you train is the fact that you feel a sense of camaraderie and that someone is there to guide when you need it. That is why the first step: choosing the right gym to join…is always the most important one.
More about Brazilian Jiu Jitsu?
Check out Portland BJJ classes
Choosing a Brazilian Jiu Jitsu school