Many people tend to think of turning to something like kickboxing is strictly for a fitness regimen, but it can serve well for self defense purposes as well. Before kickboxing hit the mainstream as a way of getting fit, losing weight, and building muscle, it was certainly around for self defense. As a matter of fact the entire focus of this regimen was that kickboxing for self defense is what it was all about.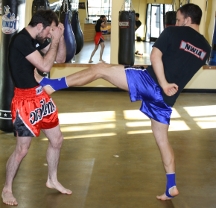 So as we consider building up our self defense skills we want to understand just how something like kickboxing can work for us. Not only does it help to strengthen and build up some of your confidence, but it also works tremendously for giving you that edge to be able to defend yourself. This is good if you should ever find yourself in a compromising situation, or simply to help you to feel capable of handling yourself no matter what life throws at you.
Click Here To Learn More About Portland Kickboxing For Self Defense!
Kickboxing for Self Defense Plus Strength, Confidence, and Abilities
The kicks and the punches that kickboxing for self defense pulls together is fantastic. This shows you how to defend yourself against an opponent or simply to protect yourself if you should ever have the need. Even the ability to block your face if the need arises can be instrumental to keeping you safe. Self defense is all about staying safe and being strong, and kickboxing incorporates all of the movements and skills to be able to do so.
Portland Kickboxing For Self Defense Video: Muay Thai Combo #2
What you will find is that the movements of kicking and punching and twisting and turning start to help you feel stronger. Then when you begin to incorporate the self defense elements of blocking and protecting your face, it all comes together. Though there are various forms of self defense classes that you can take, you will find that kickboxing may be your very best bet.
Consider how much you can gain from this type of regimen and it's really no wonder that so many people have turned to kickboxing for self defense. You get a great workout, but more importantly you learn skills and movements that will help you to protect yourself no matter what. This is an exceptional way of building up your regimen and staying safe at all costs. This is a popular option and one you should consider if you want to use kickboxing for self defense, you will love the benefits.