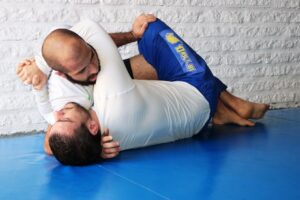 As a longstanding martial arts tradition, Jiu Jitsu is an excellent tool for the body and the mind alike. Due to recent popularity, Jiu Jitsu classes are available all around the world. Whether you're experienced or just starting out, the benefits of Jiu Jitsu are numerous.
There is no shortage of available practices and traditions when it comes to Jiu Jitsu for beginners. Perhaps the most popular iteration is Brazilian Jiu Jitsu (BJJ), a martial art that combines grappling techniques and mental fortitude to construct an ideal atmosphere for physical and mental acceleration. Though physical in form, many of the strategies and principles taught in BJJ classes teach complex critical thinking skills and develop valuable lifelong traits such as grit, willpower, and focus. The added benefit of a positive, encouraging peer group enhances the many upsides to practicing a martial art such as BJJ.
Children over the age of two should engage in at least one hour of moderate physical activity per day according to a recommendation from The American Heart Association. When you consider the impact of technology, social media, and videogames, most young folks are exercising less and less. Couple that with the negative associations people have with the tedium and discomfort of conventional workouts, and you have a set of conditions that quickly leads to health problems in a culture that lacks movement. Jiu Jitsu and other martial arts create a matchless environment for socialization and physical activity. Through the benefit of a group setting, Jiu Jitsu serves as an excellent form of exercise. You are learning new skills as you move your body. You are pushed by your peers to perform to the best of your abilities, which in turn will increase your agility, stamina, and overall physical well being.
If you're interested in martial arts, Jiu Jitsu for beginners is a great place to start. Classes progress at a steady pace and learning is emphasized throughout. There is no better pursuit than to better yourself through a martial art that keeps you healthy, happy, and connected to those around you.