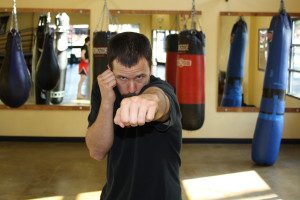 The arts offered at Northwest Fighting/Internal Arts cover a broad range of approaches to training from the hard, directness of Muay Thai to the soft, elusive style of Tai Chi Chuan. There is an art suited to anyone who walks through our door. As a member you will have access to a curriculum in each art that can guide you from your very first class in martial arts to advanced practice, competetion and even to certification as an instructor. Our highest priority is offer in-depth quality instruction to our members. Each individual art's curriculumteaches the complete system under the guidance of a certified expert in the field. Learn more about the arts we offer.
The studio at NWFA consists of two approximately 4000sq ft classrooms. Members have free access to the gym as a practice space at all times that it is open. During "open gym" times an instructor is on hand for one-on-one training advice. During class times, if the class is not an art you are currently pursuing, the second classroom is available for practice the vast majority of the time. If the schedule lists two classes in the same time slot members are still welcome to use the exercise space to stretch and warm up for the next session.
In addition to practice space we offer a collection of exercise equipment for cross training including: free weights, kettle bells, medicine balls, a leg press machine, pull up bars and more.
A busy life doesn't have to come between you and the training you seek. With ten qualified instructors in our various specialties we are able to offer training times to suit any schedule. Showers are available after class for anyone returning to work after a lunch or morning session or going out after training.
In addition to the depth of training a member has access to in house, NWFA is honored to regularly host guest masters such Rigan Machado, Grandmaster Sam Tam and, and many others. These seminars are a great opportunity to augment your usual training with extended weekend intensives. Intensives regularly help members make breakthroughs and push to a new level with their training.
In addition NWFA members can enjoy benefits from the associated organizations listed below:
Associated Organizations
Health Providers:
---
Jennilyn M. S. Nelson, LMT
Oregon License # 17295
(503) 490 – 7307
Therapeutic Swedish Massage
Injury Recovery
Sports-specific Massage
Offering 15% off Hour Sessions to NWFA Members!
---
Watershed Community Wellness
Massage Therapy
Acupuncture
Chinese Herbal Medicine
Offering a 10% discount on massage services to NWFA members!
---
Common Ground Wellnes Center
Massage
Acupuncture
Sauna and Soaking Tubs
NWFA members can utilize Sauna and Tubs at CGWC member price.