Brazilian Jiu Jitsu Seminar with Rigan Machado
Saturday November 12th
Rigan Machado is an 8th degree black belt in Brazilian Jiu Jitsu under Carlos Gracie Jr.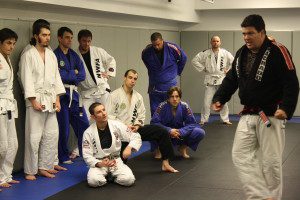 An outstanding fighter, Machado was world champion in BJJ for seven years running and amassed a record of over 360 documented wins.
Equal to his ability as a competitor are Machado's skills as an instructor. A highly sought teacher who has trained the likes of Dan Inosanto, several champions and professional fighters, Machado is friendly, approachable and values all of his students. "…on the mat everyone becomes part of the same Jiu Jitsu family."
Where: 1200 SE Morrison St. Portland OR.
When: November 12th beginning @ 11am
Dues: $85
The dues for this seminar are solely for Professor Machado's expenses and compensation. Northwest Fighting Arts is honored to host and provide this resource to local BJJ players