The April 12th bout is the long-awaited rematch to their memorable 2012 fight. If you'll recall, Pacquiao lost their first fight after 12 rounds in a controversial majority decision. Many observers believed that Pac-Man should have won the fight, prompting an investigation. The World Boxing Organization's Championship Committee reviewed the video of the fight with five independent, competent, and recognized international judges. On June 21, 2012, the five WBO Championship Committee judges on the review panel announced that Pacquiao should have won his controversial defeat, with all scoring the fight unanimously in Manny's favor — 117-111, 117-111, 118-110, 116-112 and 115-113. However, the WBO cannot overturn the result of the fight (only the Nevada State Athletic Commission has the power to do this). The panel ultimately recommended a rematch between the fighters to settle the issue.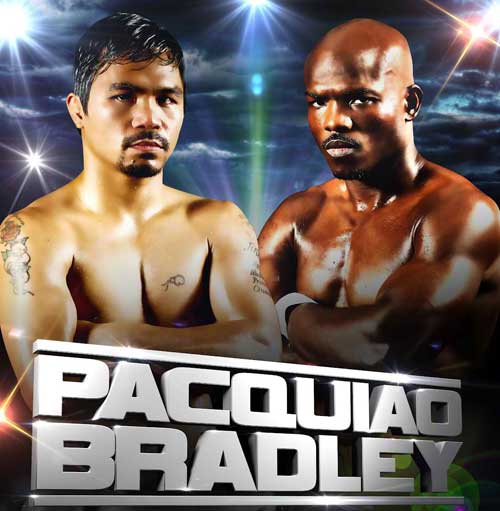 The April 12th rematch, a welterweight title bout, will be held at the MGM Grand Garden Arena in Las Vegas. Many – most notably Tim Bradley – have wondered if Manny has lost some of the fire in his belly. Bradley said he watched the fight against Brandon Rios last November in Macau closely. He said first thing he noticed was how Pacquiao has lost his killer instinct. Pacquiao, of course, has fired back, noting that if that is what Bradley wants, that is what he'll give him.
This time round, both fighters are looking to score a decisive win and put the controversy and any lingering doubts to bed. The odds currently favor Manny Pacquiao 2-1 over Tim Bradley.
So, what do you think? Are the oddsmakers correct, will Pacquiao avenge his 2012 loss? Or, will Bradley beat him again, and finally put an end to the doubts surrounding his surprise victory?
Bradley's Trainer: Tim Will Put a Hurt on Pacquiao! Do you agree?
Portland Boxing Video: How To Wrap Your Hands