UFC 268 Michael Chandler vs Justin Gaethje
"He is a warrior and we are living in the wrong times.  Me and him should have been fighting to the death in the coliseum," said the victorious Justin Gaethje in his post fight interview.  Had it been a five round bout instead of three, it might have just ended up that way.  Luckily, for Michael Chandler, this fight kicked off the main card of UFC 268 and was scheduled for only three, five minute rounds.  Most experts and fans agreed the odds of this fight making it to the scorecards, even with only three rounds, was very low.  Had this fight been scheduled on any other night, it would have been a five round headliner but with two title fights on this stacked card, fans were in for a special treat to open the show.  Here is how it went down.
Round 1 opened with fireworks as Gaethje chopped at Chandler with his signature low leg kicks.  Having already won multiple stoppages and TKO's using leg kicks, everyone in the division is well aware of this threat.  Chandler did his best to avoid these while also using his jab to set up his dynamite overhand rights, some of which started to land.  After a few back and forth brawls, Chandler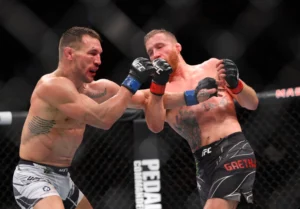 landed a couple of huge right hands that caused Gaethje to stumble his way back to the cage. Sensing a finish, Chandler poured on the pressure, getting a little sloppy in the process and in turn ate a huge uppercut from Gaethje.  Chandler started to wear the damage and attempted a take down on the former NCAA Division I All-American wrestler but to no avail.  The round was extremely close with lots of big moments and could have been scored for either fighter.   
Round 2 started right where round 1 left off.  Both fighters throwing bombs at each other and connecting with frequency.  Chandler put a little more focus on landing body shots but seemed to be struggling with the leg kicks from Gaethje.  After landing a huge left hook that stumbled Chandler back, Gaethje faked another left hook but instead landed a massive right uppercut that sat Chandler down and nearly separated him from consciousness.  Falling back on his instincts, Chandler wisely grappled with Gaethje long enough to get his wits back before being let back up to his feet to continue the striking match.  This is perhaps why fans love Justin Gaethje so much… he is a world class wrestler that only wants to strike because he knows it's more entertaining for the fans.  Once back on their feet,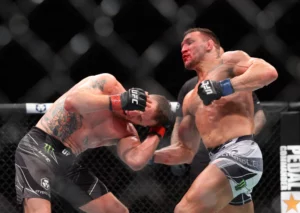 the damage to Chandler's face became very apparent as he was almost unrecognizable at this point.  As the round continued, the technical prowess of Gaethje started to become more and more evident, as he continued to land heavy blows and evade or block many of Chandler's strikes.  Nearing the end of the round Chandler lands a right hand followed by an open hand that scraped Gaethje's eye and before the referee stopped the action, Chandler was able to land another big right hand to the seemingly defenseless Gaethje.  In what could have been a catastrophic mistake, Gaethje tells the referee he is fine, not knowing the action would start up again immediately.  The round closed without any follow up strikes and Gaethje was later quoted as saying Referee Beltron "could have cost him a million dollars" with that mistake.  
Round 3 and this is already the fight of the year.  Chandler's leg is noticeably damaged and he seems to have lost some of the power in his striking.  He starts switching stances more to protect his battered lead leg but Gaethje continues to pour on the strikes using his jab and low leg kicks.   Chandler starts to pick up the volume using body strikes and has some success on his feet.  However, after another hard leg kick that almost puts him down, he decides to shoot a double leg and this time he succeeds.  He carries Gaethje a short distance and then drops him on his head, violently, in a way that would probably knock out anyone other than Gaethje.  Being the All American wrestler he is, Gaethje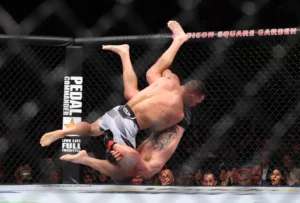 manages to scramble and front roll out of it and end up on Chandler's back landing more strikes.  The crowd is going nuts at this point and it seems that Chandler's will was broken momentarily.  Being the warriors they are, they ended up back on their feet once again and started teeing off on each other again.  Chandler ripped the body and then landed a huge right hand that stumbled Gaethje before Gaethje returned fire and knocked Chandler back against the fence.  At this point it seemed that Chandler tried to fight the ego of Gaethje and egged him on with his hands down.  Gaethje took the opportunity to land a few more massive shots that stumbled Chandler backwards.  By the last minute of the fight it seemed that the two fighters were out of gas and had seen enough… neither were willing to be knocked out on this night. 
For some awesome slow motion footage of the fight, jump to 4:35 of this video or watch the entire video for all the highlights from UFC 268.
UFC 268 'Fight Motion': Justin Gaethje and Michael Chandler's 'Fight of the Year' contender in super slow mo
2021 was full of amazing fights and there were a lot to consider when writing this.  However this fight seemed to stand out amongst the others in the same way that Joe Rogan said about Justin "The Highlight" Gaethje, "In a sport that is violent, he stands out as the most violent!"  So, in a sport that is exciting, this fight stands out as the most exciting.
Have a great New Year everyone.  2021 is almost over, so let's make 2022 the best year ever and not let anything stand between us and our dreams.  Call us today at 503-235-3435.