Whether you want to pound your opponent down in a cage match or you simply want to learn self defense for safety purposes, the MMA Workout 3 Phase Program is your answer.
The Next Generation Intensive Training
Mixed Martial Arts (MMA) fitness is the next generation intensive training program that synchronizes and combines several authentic martial arts training techniques, including kickboxing, Jiu Jitsu, Thai boxing, grappling, wrestling and other techniques dexterously.
The Ultimate Fighting Championships and Cage Fighting Championships are the main contributors to the explosive growth, awareness and popularity of MMA workout programs. MMA trained fighters battle it out in the octagon in a no-holds barred competition which is very close to real fighting.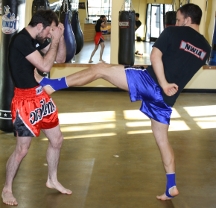 The 3 Phase MMA Workout Program
This revolutionary MMA workout includes different exercises that target legs, core balance, cardiovascular health, flexibility, weight loss, muscular toning, and endurance.
The MMA workout program is designed to MMA fighter specifications, but if you are simply seeking to improve your fitness levels, the basic program can be divided into 3 absolute phases: endurance, strength, and power phases with multiple muscle-pumping exercises and a special nutrition plan designed to transform your physique, help you achieve your fitness goals and increase endurance and stamina like never before. It allows you to achieve super endurance and extreme power in 12 weeks time.
The workout is divided into 3 clear phases to focus on specific goals and to reduce the risks of injury and burnout effect. Vigorous and non-directional exercise can lead to wear and tear of muscles.
MMA Workout Endurance Phase
This phase includes exercises to improve body control and balance, improve muscle nerve response, lower muscle fatigue and achieve superior endurance. The exercises performed during this phase include weight lifting as well. The body gets tired in the beginning but as you continue to work out your endurance increases to a great level.
This phase includes exercises like:
– Squat thrust
– Get up with dumbbells
– Trampolining
– Cycling
– Kickboxing on heavy bag
Portland MMA Workout: Mixed Martial Arts Ab Training
MMA Workout Strength Phase
The exercises included in the strength phase target skeletal muscles. This phase is designed to increase lean body mass by developing a more defined body and increasing overall body strength.
Exercises for this phase include:
– Dumbbell clean
– Deadlifts
– Bench press
– Crunches
– Dips
– Dumbbell front Squat
MMA Workout Power Phase
The power phase is the third phase and it is more vigorous than the first two phases. The power phase picks up in the 9th week of the fitness program. It is designed to improve the efficiency of muscles by rapidly increasing the rate of fiber contraction. This is achieved by incorporating exercises that trigger speed and spontaneity.
Exercises in this phase include:
– Jumping jacks
– Elbow to instep
– Scorpion stretch
– Sandbag squats
– Band sprints
– Kettlebell swings