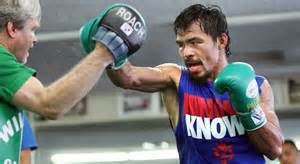 Manny Pacquiao (Pac-man) announced that he is retiring after 20 incredible years as a professional Boxer. In his last bout he defeated Timothy Bradley and decided to hang up his gloves.
Manny Pacquiao is one of the most famous boxers of all time. He has been so exciting to watch because of his unique style and incredible determination. He is the only boxer to hold titles in eight different weight divisions.
There was a lot of buildup and press leading to his fight with Floyd Mayweather. Almost every boxing fan out there was talking about the potential outcome of this fight. It was one that everyone wanted to see happen.
After the fight was scheduled Manny Pacquiao's trainer Freddy Roach said:
"I would ask him to quit because there's nothing else out there. I think it would be a great way to retire and I think would be a great way to help Manny try to become president of his country, because I think he's getting close to that next year. I think he enjoys that, he likes helping people, and he wants to make his home a better place. He really does. So I kind of like that for him."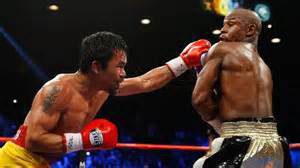 Mayweather defeated Pacquiao which lead more questions about where his future would take him. At the same time he was hit with a rotator cuff injury that required surgery. His doctor told him he would be out of competition for about one year for recovery. Dr. Neal ElAttrache said:
"We have an MRI scan that confirms he has a rotator cuff tear. He has a significant tear. Once you know he has a tear that's not going to heal on its own, then the decision for an active person is you want to try to fix this before it gets bigger. If all goes as expected with the surgery and the rehab is successful, Manny could be back training in about six months.
At that point, he will be regaining strength and endurance, and competition is reasonable within nine months to a year. But this is a severe enough tear that it won't heal without being repaired."
When asked about his shoulder injury and if it affected his performance against Mayweather Pacquiao said: "What we wanted to do we couldn't do because of my shoulder."
Pacquiao still has a big potential career ahead of him with the possibility of becoming President of the Philippines. He has a strong desire to help his people which is one of the many things that made him so well admired and respected as a boxing competitor.
Manny Pacquiao has had a great career as a competitive boxer. Hopefully he will have many great accomplishments as a political leader as well.
Interested in boxing for fun, fitness or competition check out NWFA's great classes and get 30 days of free training.