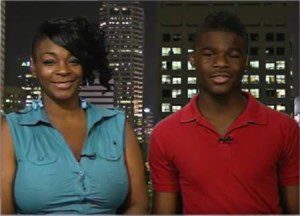 Ever thought of what your child would do if they were bullied?
Click this link to see what Chelsea Grimes did solve her sons
Bullying problem and
Learn why not being educated this subject can be disastrous to
Your child's future.
The school principal said that the staff had been trying to get him to "tone down" his flamboyant dressing style.
See how her decision could possibly destroy her sons
Reputation and get him expelled from the public school system.
After her gay son was bullied in school and administrators didn't do enough to stop it, Chelisa Grimes decided to do something to protect her son: she sent him to school with a stun gun. "I brought the stun gun 'cause I wasn't safe," the 17-year-old said.

After six other students surrounded him at school, calling him names and threatening to beat him up, Young pulled the stun gun from his backpack. He raised it in the air, setting off an electric charge, and sending the group scurrying, Young said.

Unlike a Taser, which fires barbs attached to long wires at a target, a stun gun has to be near or pressed against a person to shock them. "I got kicked out of school for me bringing the weapon to school, but I honestly don't think that that was fair," Young said. "I didn't use it on nobody. … All I did was raise it up in the air and went back to my class."
 Get Your Free Anti Bullying Guide Now!
Here at NWIA Youth Power program we will educate both you
And your child on how to deal with these situations as well as
Give your child the confidence to succeed and understand the
Skills needed to become a successful leader.
Come in today and try our program for free. We will show you
why this education is essential to your child's success.
Call know 503-235-3435
1) Free private lesson with one of our Nationally certified
instructors.
2) 30 days of free training in our Youth Power program
3) Free uniform ($50 value)
4) Free E-book on how to stop bullying
5) Waive the $299 initiation fee
Thank you,
Professor Jeff Patterson
P.S. And get a free DVD on the seven proven and most effective
self-defense techniques