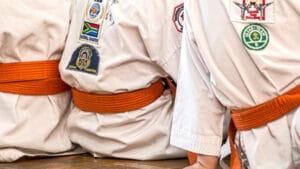 Forget about the video games and cartoons — jiu jitsu class is one of the best gifts you can give your child.
About two-thirds of parents worry about their child spending excessive time on electronic devices. Sadly, parents are responsible for making these electronic devices available for the child.
If this is the case with your family, there is a lot you can do to change the situation. Find a jiu jitsu Portland Oregon class and enroll your child. It will help ward off childhood obesity and keep them off the electronics.
But the benefits of BJJ go far beyond the physical exercise. From jiu jitsu for beginners to more advanced classes, your child will be learning essential life skills that will serve them for years to come.
1. They will Grow More Confident
One guaranteed thing with attending a jiu jitsu class is that there will always be someone more advanced than your child. Though the child might struggle at first, they will learn new skills or techniques as they progress. The more they learn, the better they will become at this exciting sport, and their confidence will grow.
This will help your child hold a better attitude toward life's challenges. The boost in their self-confidence will also shape their personality.
2. They Will Develop Grit
A jiu jitsu class is about so much more than fighting. Your child will learn to use their mindset and skills to find their way out of tricky situations with their opponents. They will learn to take control of tough moments rather than running from them. Jiu jitsu will thus help them develop grit.
Having maneuvered out of situations on the mat, your child will understand that they can find their way out of life's challenges as well.
3. It Will Teach Them to Seize Opportunities
One thing about getting on a jiu jitsu mat is that you cannot afford to get comfortable. One second of distraction is enough to shift the control back to your opponent. Your child will learn to always stay alert for opportunities that can give them an upper hand. And hesitating or taking advantage of these opportunities defines how the game ends.
The same case will apply in real life. Your child will learn to observe their surroundings. They will learn to spot chances that can leverage their growth in the classroom, and later in their careers.
4. It Will Help them Learn about the Value of Consistency
Your child will not master the art of the Brazilian jiu jitsu in a few classes. It requires practice, and most of all, consistency. To learn vital techniques, your child will need to attend every class, and put in the effort. You don't have to worry about quitting; the desire to conquer an opponent will keep them determined to sharpen their skills.
No matter how talented someone is, they need to learn and be consistent in practicing their skills. And by learning this vital secret of life, your child will be well-equipped for life.
5. They will Learn about Self-control
Self-control is one skill most adolescents and teenagers lack. The Brazilian jiu jitsu basics will teach your child about being in control of their feelings. It doesn't matter if their opponent is about to take them down. Panicking doesn't help. A jiu jitsu class will teach them how to refocus and take control of the situation calmly and systematically.
Self-control is a major character in most successful people. Your child will learn about staying in control of their anger and pride, especially if it doesn't help the situation.
A Brazilian jiu jitsu class will empower your child to handle bullying. They can also use the skills they learn in BJJ in their day to day life. Your child will learn about self-control and the value of staying consistent. They will develop essential life skills such as grit and self-control. Your child will also gain self-confidence and learn how to seize opportunities.